HOWARD MITCHELL
Director
Mitch was a founding director of EPCΛD in 1992 and has extensive experience spanning over thirty years, particularly in areas of urban development and environmental integration. He has led and coordinated teams for major urban and infrastructure projects and retains a passion for collaborating with diverse creatives and artists. He provides strategic advice on environmental and landscape issues to industry and governments and is experienced with executive level liaison at all levels in government and corporate decision makers.  The combination of his skills and broad experience provides clients with a planning and design approach encompassing an understanding of many, often conflicting issues.  
His work has taken him to Australia, America, China, South East Asia, Europe and the Middle East. Mitch has retained a commitment to education and continued professional development, lecturing, mentoring and running professional workshops and seminars.
KÄREN LOWNDES
Director
Kären has over 25 years landscape architectural experience and is recognised as driving innovative design solutions and creating valued community assets. She has a wide range of experience from large scale masterplanning through to detailed design and delivery in relation to residential communities, habitat creation, public parks, commercial precincts, leisure and hotel developments, business and science parks. Working in many different countries, cultures and climates, Kären has developed a deep understanding of sense of place, an ability to capture the values of places and interpret these in environmentally and socially responsive designs. She also has an acknowledged understanding of water harvesting and drainage management and its successful integration into landscape elements in both rural and urban areas.
Starting her career in England, Kären has worked on projects throughout the UK, Europe, the Middle East and most Australian cities, many of which have attained industry accolades. Her early foundations in fine art and continuing interest in collaborations with artists and sculptors has enriched our work and the places we create.
RITCHIE MARCELINO
Associate
I never assume anything. I anticipate the possibilities and allow my imagination to create a future.
Ritchie has over 20 years of working across the globe in design, urban planning, construction and project management. Early in his career Ritchie was involved in a variety of major architectural developments all over Asia and Dubai. In 2006 he moved to Australia where he immersed himself in landscape construction methods and Australian native plants. Since joining EPCΛD, Ritchie continues to bring his extensive professional experience in architecture, conceptual design, landscape and project management to our design team. Importantly his knowledge of international design movements combined with his exceptional design skills are an essential component of our studio and mentoring program.
Ritchie has been involved with many new community projects such as Shorehaven, Avon Ridge and Eden Beach. His urban design skills were critical to our work in Port Hedland and Curtin University and in presenting concepts for the redevelopment and intensification of density around transport nodes and corridors in metropolitan areas.
JOHN BRINKHURST
Senior Landscape Architect
John joined EPCΛD as Senior Landscape Architect in 2014. He brings over 15 years' international experience from the UK and Europe where he contributed to many successful high profile developments.
John provides landscape design and specialist advice to some of the top residential developers in WA. He is involved in all aspects of project delivery from strategic planning, schematic design and community consultation through to detailed design, documentation and implementation. He currently manages a number of multi-million dollar landscape contracts in and around Perth. He has an excellent knowledge of local government processes and understanding of local community issues, flora and fauna, water sensitive design, conservation and bushfire management techniques.
John enjoys working in a multidisciplinary environment, liaising with civil engineering and environmental consultants and maintains a high level of communication with the public and project stakeholders. He shares professional knowledge internally as a senior team member and enjoys involving the studio team in his keen interest in music.
JAMES HODGINS
Senior Landscape Architect
James joined EPCΛD in 2013 initially being mentored through his last months at University. He now assists directors and senior staff with presentation of concepts, conceptual development, detail design and project administration. James has a keen interest in aboriginal cultural issues and has been able to contribute to EPCΛDs work in this area. He worked on the Whiteman Edge development, delivering project elements from sketch design through to final construction as well as having involvement on the Eden Beach and Bletchley Park developments.
At university many of the design studios completed throughout his degree, saw intensive community consultation, and this has been carried into his involvement with projects here at EPCΛD where James has attended community focus groups representing EPCΛD.
James was born in Perth and has an intimate knowledge of its landscape, climate, people and local flora and fauna. James is a member of FuturePerth and has had work published in 'Landscape Architecture Australia'.
KANA WANG
Landscape Architect
Kana's distinctive creative design skills were forged in the density of Shanghai and honed in the contrasting space of Western Australia. Her ability to illustrate design solutions quickly in a form that is easily understood by clients makes her a valuable studio team member. She has over 12 years of professional experience working on projects in China and Australia since gaining her Bachelor Degree in Environment Art Design (Landscape Architecture) at the DONGHUA University at Shanghai in 2003.
She joined EPCΛD as a landscape architect from 2008, and has created and collaborated on the art installations, intimate spaces and the distinctive signature sculptures of Shorehaven Alkimos. She enjoys bringing her excellent freehand sketching skills to projects using her pictures to communicate innovative and sometimes startling design responses.
JACOB PALMER
Landscape Architect, Urban Designer
Jacob has a bright, enthusiastic approach to design. He has established technical skills spanning diverse urban design and landscape experience, designing and creating recreational infrastructure in the built and natural environment. Jacob has honed his early career in both the private and public sector, delivering parks and valued spaces to communities across Western Australia.
Jacob's professional skills and qualifications in Landscape Architecture, Urban Design and Digital Design, are supplemented by his keen interests in photography and communication. His role in EPCΛD is both one of project and client management and support on major commissions.
Jacobs design ethos is to create amazing, shared experiences for the widest variety of users. Most of his recent work has been focused on creating all abilities playgrounds and inclusive parks to encourage safe play to all ages, orientations and capabilities.
BART WILLIS
Design Technician
Bart helps build our visions. He has worked at EPCΛD for more than 10 years now and has been involved in some of EPCΛD's most prominent projects. As a design technician, he has had engineering and design input into Alkimos Shorehaven, Port Hedland, Eden Beach, Wellard and many more projects in and around Perth and Western Australia.
Bart's skills in construction techniques, materials and fabrication, have been instrumental in projects such as the viewing towers at Bletchley Park, Whiteman Edge, the shade structures along Wedge Street in Port Hedland and the iconic beacons at Shorehaven's entry statement. Over the years Bart has helped in designing EPCΛD's custom furnishings and details, from small pocket parks to large scale foreshore developments, from single seats to towering landscape icons. He is also our resident technology geek.
Victor de Ocampo
General Manager
I solve problems you don't know you have in ways you can't understand.
Victor has a broad range of business administration, financial control and management experience. He is a confident leader to a dedicated and diverse team. His role at EPCΛD is to ensure that the creatives can focus on design, takes leadership in creating a healthy productive work environment and maintain our talented team. Victor works closely with company directors and senior management to evaluate employees, organisational performance and efficiencies. He identifies, develops and implement company policies and procedures.
Victor oversees the company's financial performance, prepares operational budgets, and ensures that resources and expenditure are consistent with the allocated budget. He is involved in the development of operational improvements and effective strategies for the financial well-being of the company. Victor has qualifications in business administration, accounting, information technology and quality auditing, and is an Associate Fellow of the Australian Institute of Management (AFAIM).
MARCELO DRUCK
Environmental Scientist & Contract Administrator
Marcelo wants to create meaningful, environmentally appropriate places. He is an Environmental Scientist and Contract Administrator bringing over 15 years' local and international experience in various industry sectors. The combination of his skills and qualifications enables both effective delivery of projects to the ground and the provision of strategic advice on the establishment of environmentally responsive solutions in planning and design. He has worked in the fields of sustainability, landscape design, construction and environmental science as well as environmental education.
His broad experience has contributes to EPCΛDs services from business development, liaising with clients, planning projects, conception to implementation, project management and managing contracts. He has worked in the residential and commercial landscape industry in Western Australia and developed a strong knowledge and expertise in hard and soft landscape construction methods. His experience in environmental planning is based on private and public sector work in Australia and Brazil, this work often related to community education.
Marcelo holds a bachelor's degree in Biological Science (Brazil) and a Master in Ecologically Sustainable Development / Urban and Regional Planning from Murdoch University (Perth). He has a keen interest in the design and ongoing contribution that public open spaces, urban green frameworks and liveable cities, make to the community's well-being. Marcelo has great attention for detail and takes full responsibility for the quality, timing and accuracy of his projects. He has a focus on working in a collaborative way to keep everyone informed of what is happening, creating trust between all stakeholders to achieve the best results.
ANGELA JOPHIEL ANTONIO
Graduate
Angela has joined our team in a support role and to expand on her interests in exploring the many facets of design in a studio environment. Angela received a diploma in building design from North Metropolitan TAFE providing a foundation for continued growth.  Initially enrolled in the Certificate in Residential Drafting programme, she then became interested in higher density designs and other building classifications.
When she pursued her studies, she was exposed to a broader perspective on architecture, honing her awareness of a variety of building construction techniques while also learning to use a variety of CAD softwares.  As a drafting student, she was interested in sustainability and 3D presentation.  This combination helped her construct her portfolio and demonstrate her skills to combine elements and visualise her final projects.
Angela is looking forwards to starting her career in design and construction as a member of EPCAD. She is always ready to discover new and innovative ways to improve her talents and contribute to excellent designs.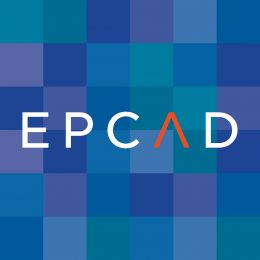 EPCΛD plans and designs excellent places.
EPCΛD was established in 1992 as a creative design studio that had its foundation in environmental awareness. The founding Directors held senior executive positions in large multinational practices and decided to create a smaller studio that offered a personal service but with an extensive knowledge base.
The practice was set up to work internationally in collaboration with like minded professionals. We have maintained our business for over twenty years by providing excellent service and innovative designs that are environmentally responsible. We pride ourselves that clients consistently reappoint and or recommend us to others.
Our ability to work successfully partnering with our clients, consultants and creatives has underpinned our growth and success. EPCΛD currently has two Directors and 13 staff. We ensure that all our design team have worked internationally and are experienced in diverse cultures. This enriches our design approach. Our Directors and Senior Staff have major project experience in the UK, Europe, Middle East, South East Asia and throughout Australia. EPCΛD provides a team of highly experienced staff that are recruited from around the world to work from our studio in Perth, Western Australia.
Our Directors and Senior Staff are all well respected professionals, providing advice on strategic landscape issues, urban design, environmental integration and spatial design. Our focus is on managing projects from early planning through to detailed design and implementation.